Recently, hand-knitted chunky blankets gained great popularity. They can be not only a cozy fluffy wrapping but a stylish accent to your bedroom design. Lots of linen stores offer chunky knit throw blankets of different colors and patterns, but they aren't the cheapest. Don't worry; here, you'll find some tips for DIY chunky knitting. This process is fun, quick, and easy, and it leaves you with a unique throw!
What Determines the Amount of Yarn You'll Need?
If you're new to chunky knitting, you'll be surprised that the amount of yarn you need depends on many factors:
Knitting technique and pattern you have chosen
Thickness and density of yarn
Needle/hook size
Your unique tension and stitch size
The best way to work this out is to make a test piece from one ball of yarn. It will give you an accurate understanding of how densely you knit.
How to Make These Calculations Easier?
Sometimes, people don't like to spare extra yarn on the test piece and are lazy to calculate an exact amount of material. If you are from this category of knitters, use the simple formula: for every 1 ft² of throw, you need 0.5 lbs of wool.
If you are a densely knitter, we advise choosing a little more quantity of yarn than indicated in the formula. If you knit loose, it's very possible that after the blanket is finished, you will have some extra material.
Choosing the Perfect Size of the Blanket
It can be quite challenging to decide on the perfect size for your chunky yarn blanket. Depending on your needs, blankets can be divided on:
Blanket scarf for worming you during the long walks or late cold evenings.
Lap blanket to decorate your armchair and cozy you up whenever you feel a bit chilly.
Kids blanket to wrap your children and let them snuggle under.
Couch throw to enjoy the evening movie with your loved one.
Bed runner to give your bedroom a stylish appearance.
Medium, large, and king-size throw blankets to cover your bed completely and add a gorgeous accent to your sleeping place.
In the picture, you can see the approximate weight of the yarn required for each type of blanket.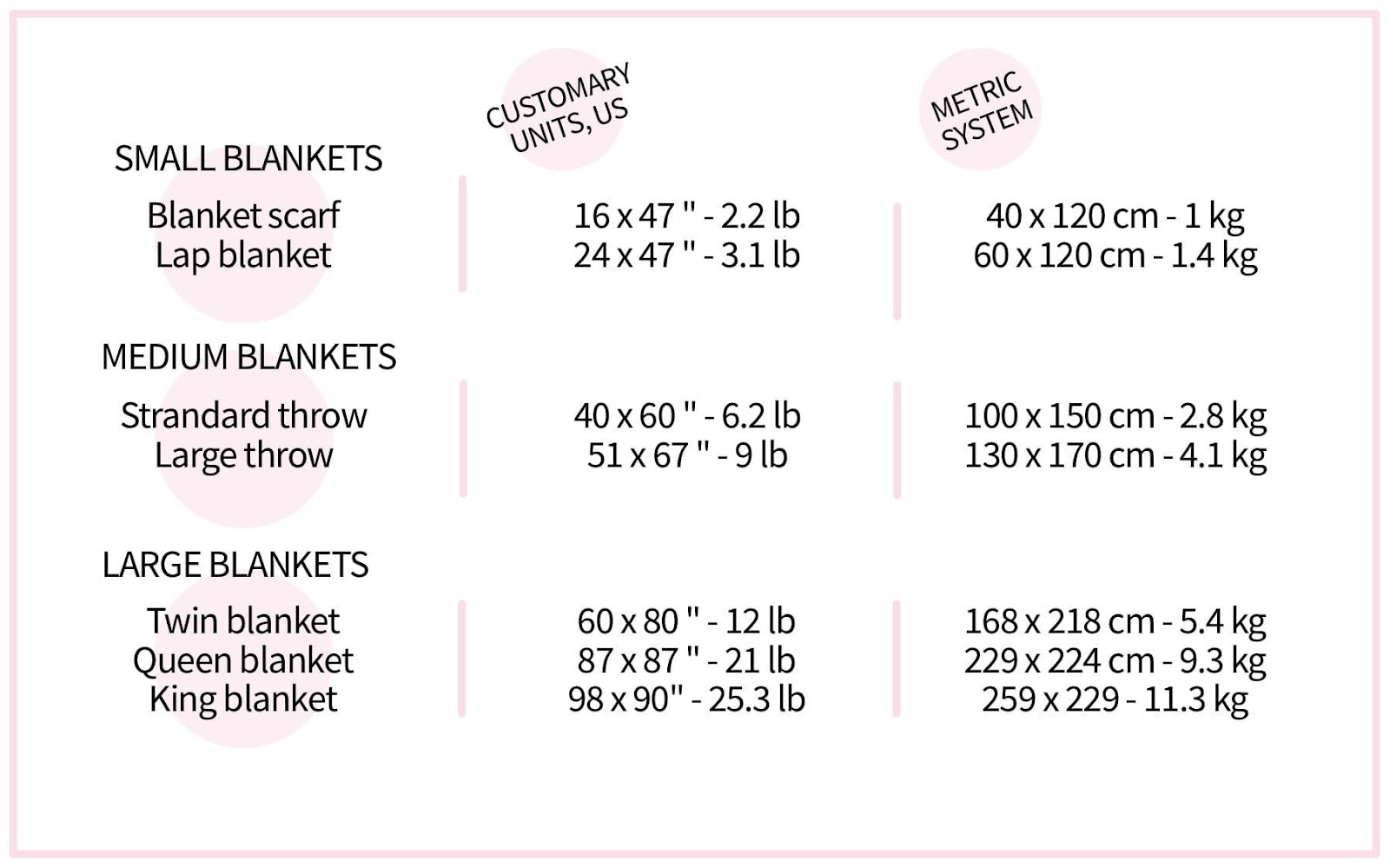 No matter whether you pick synthetic yarn or natural wool, try to choose high-quality material. Your first chunky knit project should bring you both joy during the knitting process and satisfaction with the result.